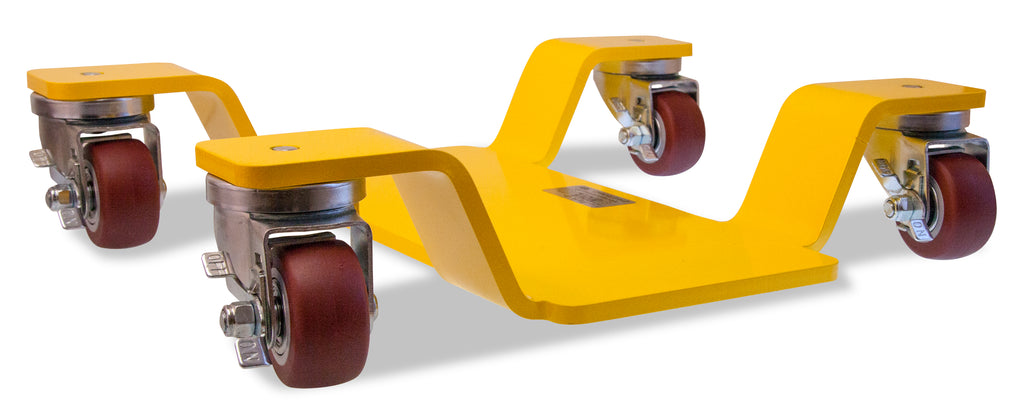 Park-N-Move
(M-01-01)
The Park N Move™ is the perfect solution to your garage space problem!
The Park N Move™ allows motorcycle owners to move their motorcycles around the garage easily, effortlessly, and securely.  It is designed for one person to move the motorcycle on it in any location they desire in the garage.
The Park N Move™ is compatible with all motorcycles equipped with a center stand. It has four 360° heavy-duty casters allowing your motorcycle to be placed anywhere room is available so that valuable floor space in your garage is used in the most efficient manner. Simply roll the Park N Move™ under the bike, fold down your center stand, and move your motorcycle! Its heavy-duty casters are lockable so that you can anchor your motorcycle in place once parked and store it away securely when not in use.
The Park N Move™ is designed for single person operation. Its low profile allows for minimal effort to place the bike on it and stores out of the way when not in use as you can hang it on the wall, put it on a shelf, or lean it up against a wall to maximize your garage space.
The Park N Move™ comes with a lifetime warranty on all components and is proudly made in the USA.  Originally designed and distributed by Legal Speeding Enterprises.
Compatible with all motorcycles equipped with a center stand

No modification needed to your bike to use it

Compact design

Heavy duty lockable casters

1,100 pounds weight capacity

Lifetime warranty

Made in the USA